Franklin
by Katja Morbiducci
He's been filking since the late 80s of the previous millennium (Wow, how's that for sounding ancient – but he is only 52!). Even though he has a lovely baritone singing voice, you have likely more often heard and seen him in his function as the Master of Ceremonies for FilkCONtinental (and even at a British filk convention) – throwing out all possible and impossible puns!
In 2002, Franklin got to be the Interfilk guest at Consonance in San Francisco, 2007 the GoH at Harmuni 3 in Cambridge. His biggest moment as a filker- so he said – was his induction into the "Filk Hall of Fame" in 2006 at FilkONtario.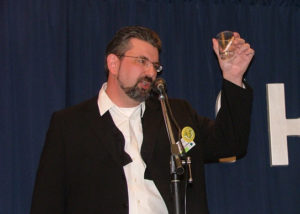 The songs he writes are most of the time funny ones (well, he thinks so *g*) that you would put into the parody category. But occasionally, his serious side and musical talent shines through when he writes beau-tiful ballads or translates his favourite English filksongs into German. While he can accom-pany himself quite passably on the piano, his "weapon of choice" is often the "karaoke-filk", also because it gives him more freedom to arrange a fun performance.
Furthermore, he stood out time and time again due to his daring and bold costumes – just remember, if you will, his cosplay of "Franklin Further", "Sailor Moon" or "Knight in White Satin".
Once in a while, he will form "filk alliances", for example with Alexa as "Lord Mercyless", but there have also been cooperations with Urban Tapestry, Puzzlebox and his "brother in puns" Steve Macdonald. His wife Molly and his children Fabienne and Frederik are occasional music partners, as well.
His first and so far only CD "Seven of Mine" was produced for his GoH appearance at Harmuni, but he could not do it without sneakily adding a "secret" track; a love song for his wife Molly.
P.S. Franklin's real life name is actually Frank Gunkelmann, which almost no-one knows! – But it's not necessary, either!