Leslie Hudson
Leslie Hudson is a powerhouse performer and prolific song-writer bringing rock, jazz, metal, blues, folk, filk and funk to conventions and venues across North America. On top of all that she is also a "geek girl", so – we win 🙂 This is her first trip to Europe and we are ecstatic to have her!
The body of her work illustrates the mosaic of the feminine spirit across culture, history and myth, digging into the dirt, traversing the shadows and bringing the truth to light. There's a Goddess Revolution going on and this rebel redhead is voicing the stories of characters who continue to inspire it, from archetypes to Inhumans, without apology.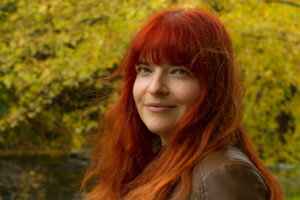 Leslie's influences glide from Tori Amos to Loreena McKennitt, Metallica to Simon & Garfunkel, woven into her voice and her fingers on the keys. Armed with a synesthe-tic palette, she invites her liste¬ners to see through the eyes of heroines, villains, lovers and liars alike, as she breathes new life into stories less often told.
In 2017 Leslie embarked on a six-month North American tour with stops in more than 25 states and provinces. On tour as at home her performances range from solo shows to singer-songwriter showcases to 10-piece band showstoppers.
Collaborating with musicians and producers around the world, her recent albums are rooted in the diversity of sci fi, pop culture, folklore, myth, and the lessons life brings.
---
Discography
The Wanderlings Volumes One & Two (2017)
Midwinter EP (2016)
Yeoman on the Bridge (2016)
The Redhead League (2016)
The Wanderlings Volume Two (2016)
Into the Mirror (2015)
The Wanderlings Volume One (2015)
With "Copy Red Leader": Crossing The Streams (2014)
With "Copy Red Leader": Pirate Elves In Space (2013)
Snips and Snails (2010)
Shades of Winter EP (2010)
Dance In The Rain (2002)
Rebirth (1998)
Listen at her Bandcamp page: https://lesliehudson.bandcamp.com/